It's here – TIFF is back and with A-list celebrities heading to our beautiful city the pressure of 'what to wear' is on. So what can you wear to a movie premiere? And what's the dress code for a TIFF party? Most importantly what can you take with you to the office to take your look from day to night?
Movie premiere attire
Most movie premieres have a "smart" dress code encouraging their attendees to look pulled together but not too casual. Daytime premieres are often more casual than films premiering in the evening.
Since the movie is the event you should wear an outfit that makes you feel like a star. Be comfortable and be prepared to wait in lines, because you never know what might happen.
Here is one of my suggestions: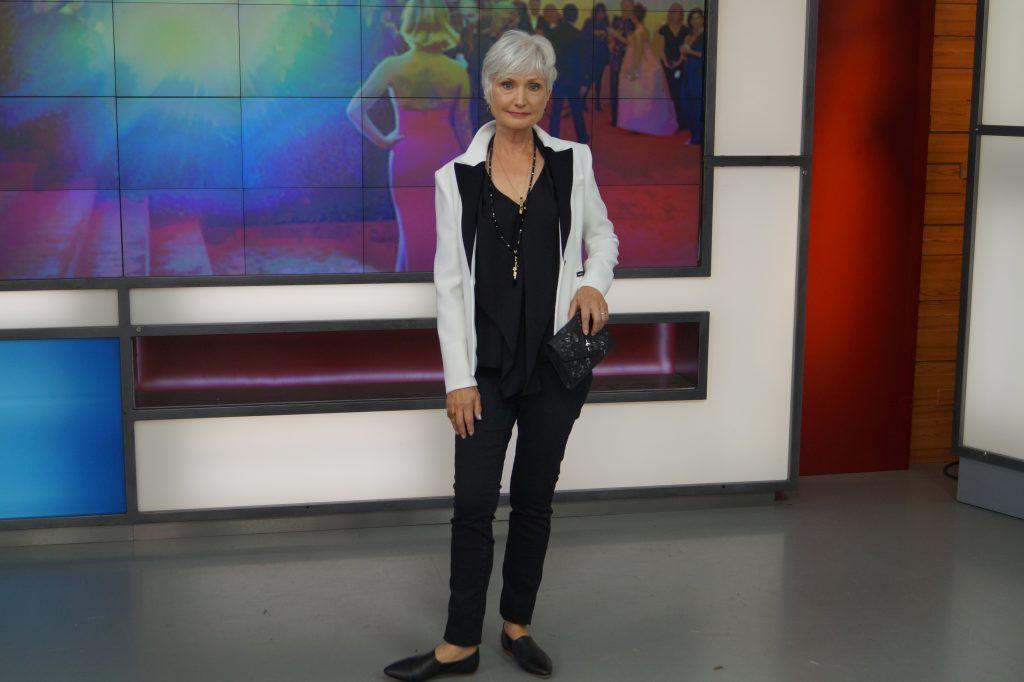 Jacket – Judith and Charles
Top – Judith and Charles
Jeans – Second Denim
Shoes – Poppy and Barley
Jewelry – Caroline Neron
This is the perfect outfit if you're heading right from the office to a movie premiere and out for dinner or drinks afterwards. Since the weather can sometimes be uncertain I love the idea of layers. This fabulous blazer looks elegant and old Hollywood but is also the perfect piece to transition into your work wardrobe and wear all year long. Love the idea of a dressier and drapey blouse underneath because if you do take off your jacket you still have a fabulous piece to show off underneath. A black jean gives the appearance of a dressy pant but is more comfortable and allows you to move in it more easily (perfect for the Q&A that follows). There are no rules that you have to wear heels to a movie premiere and with so many funky flats and retro loafers on the market why not try something different. Lastly adding some fabulous jewelry to your basics can easily transition your look from day to night. Whether you want to do one simple piece or layer your look with several pieces to make a real statement the choice is yours.
Evening party attire
TIFF parties are half the fun of the festival – and of course you never know what celebrities you might bump into. Much like the movie premiere there really is no dress code, but with many of the parties taking place at some of the hottest venues in the city you do want to up your game and dress the part.
My suggestion: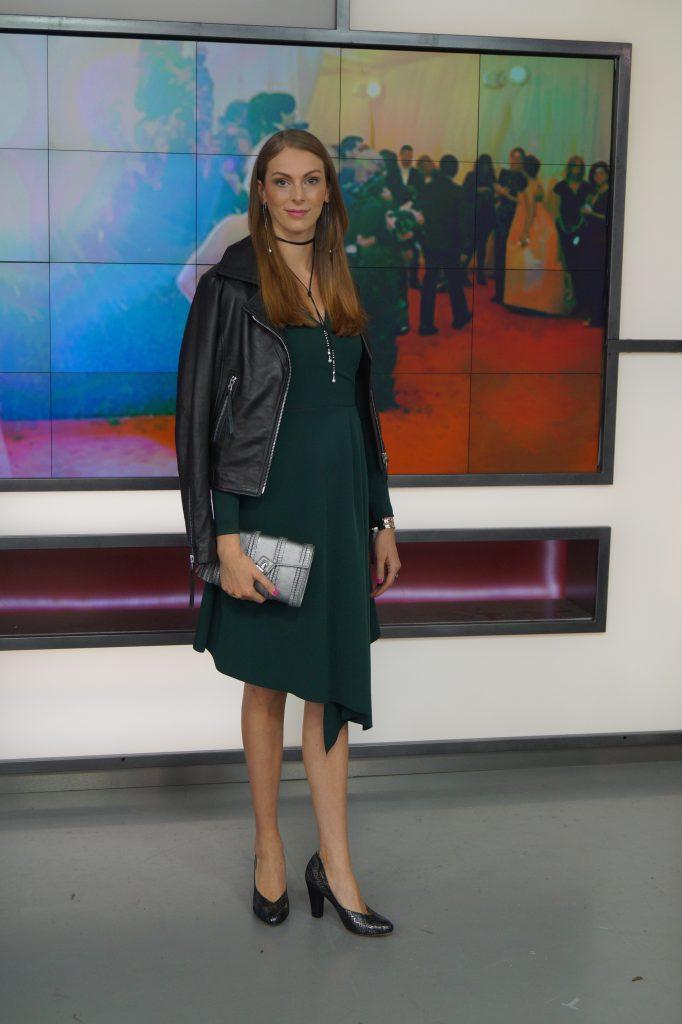 Dress – Miriam Baker
Leather jacket – Rudsak
Shoes – Poppy and Barley
Handbag – Ela
Jewelry – Caroline Neron
Love the idea of doing a dress but it's always nice to wear something that is not black. This forest green colour dress is a fabulous alternative as it looks great on many skin tones and is just as flattering as black. Look for a dress that has sleeves. Not only will you be able to wear it all fall and winter long but also it's perfect for those cool spring evenings. Layering your favourite leather jacket overtop of your dress adds a little edginess to your look. Use the leather jacket you already own or if you are purchasing something new look for soft leather with elegant and simple detail, as this will give you a classic wardrobe staple. When selecting a high heeled pump – think comfort, yes you want it to look good but you will be standing most of the evening so it should also be comfortable. A perfect addition to any evening outfit is the clutch bag. Select something simple yet stylish and make sure it's a colour that works with all of your other outfits – I selected neutral silver grey for that exact reason.
Whatever you decide to wear, be yourself and have fun!